英文简历写作交流
应届毕业生简历频道与同学们交流下英文简历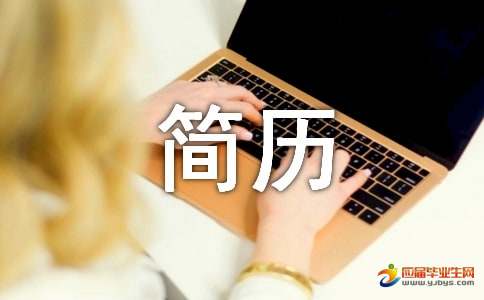 1. The resume of the basic content
The standard resume mainly by the four basic content composition:
Basic situation: name, gender, birth date, marital status and contact way, etc. Education background: according to the time sequence of the highest degree to list junior high school school, professional and main course. In all kinds of professional knowledge and skills training.
Work experience: according to the time sequence to work so far all listed employment records, including company/unit name, position, office and departure, no matter what each should be highlighted the job responsibility, such as the nature of work, this is the essence of your resume part.
Other: personal expertise and hobbies, other skills, professional organizations, writing and references, etc.
2. Streamline resume length and thickness
General manager of the personnel department will often receive piles of resume, they didn't have too much time to carefully see a long resume. If you seek a professional or technical positions, and write down a page or two resume is normal. A busy personnel manager it is not possible your share of the more than two pages resume, and a brief resume often than the long and difficult to write resume. So you can write out the long will resume try to compression, make short and strong.
3. Personal electronic delivery of the resume way
Now it company like using E-mail way to receive your resume, of course, in the recruitment will also receive some paper resume medium. So in addition to the job fairs for some outside your resume, you can also go to some more talent (company) website look at recruitment information. And then with the form of E-mail sent to each other, so that way to both sides that saves time and effort. You also cutting out the cost of print your resume.
4. The hiring conditions
For the employing unit, it is the first hurdle to resume, interview is the second level. In your resume,, the personnel manager will often focus on the observation resume has reached the requirements whether, if reached will consider to notify the parties concerned to the interview. So, in when writing your resume must focus on each other's requirements, and in his own writing resume efforts to reach each other the required level. So they will inform you to interview 5. Ability
Graduates resume making sure to enjoy your own performance, not others. In your resume to show your skills, and your own achievements proved them. If you writing ability is poor, best please writing ability is stronger person to help, you can, through their own way of oral let others listen and write, with the right word to describe yourself. In addition to write resume don't get bogged down in the format: your resume is your own resume, so whether you write what, just look at reasonable will do. It is best to resume performance of the honest, too high or too modest a rhetorical is bad.
6. Attention points
In your CV, you don't simply list what you done duties, emphasize what you've done. Must emphasis on a job you do the special skills and your achievements and certificate, is a simple resume also should write like this. Don't too humble: like the interview, your resume cannot too humble.

【英文简历写作交流】相关文章:
1.英文简历交流
2.英文简历写作
3.英文简历写作要领
4.英文简历写作入门
5.英文简历写作细节
6.英文简历写作禁忌
7.英文简历写作范文
8.英文简历的写作